ITADI
Hydrating Mist Face Toner
Regular price
Sale price
$18.99 USD
Unit price
per
Sale
Sold out
A gentle, soothing mist charged with antioxidants that purify, balance, and energize the skin.
Size: 4 oz
Active Ingredients:
Coffee Berry - reduces and  prevents the appearance of fine lines, wrinkles, and other visible signs of aging. Has an anti-inflammatory effect on skin, which is helpful for those with eczema or dermatitis.
Aloe Vera - contains enzymes that help exfoliate the skin to make it smoother. Prevents lines and wrinkles.
Full List of Ingredients: Coffea sp. (Coffee Berry) Aqueous Extract, Butyrospermum parkii (Shea) Leaf Aqueous Extract, Dioscorrea spp. (Yam) Leaf Aqueous Extract, Aloe barbadensis (Aloe Vera) Leaf Juice, Glycerin, Carthamus tinctorius (Safflower) Oleosomes, Coffea sp. (Coffee Berry) Infused Helianthus annus (Sunflower) Oil, Phenoxyethanol, Ascorbic Acid, Potassium Sorbate, Natural Scent
Skin Types:
Normal
Oily
Dry
Combination
Sensitive
How To Use: Gently mist onto face. Use after cleansing, before applying moisturizer and throughout the day whenever skin needs a boost of refreshment. Separation is natural; for best results, shake before each use. Follow with ITADI Moisturizer. For external use only.
All ITADI Products are Fair Trade + Ethical Trade + Gluten Free + Paraben Free + No SLS; Phthalates + Vegan + No Synthetic Fragrance + No Animal Testing
*100% satisfaction or your money back
Share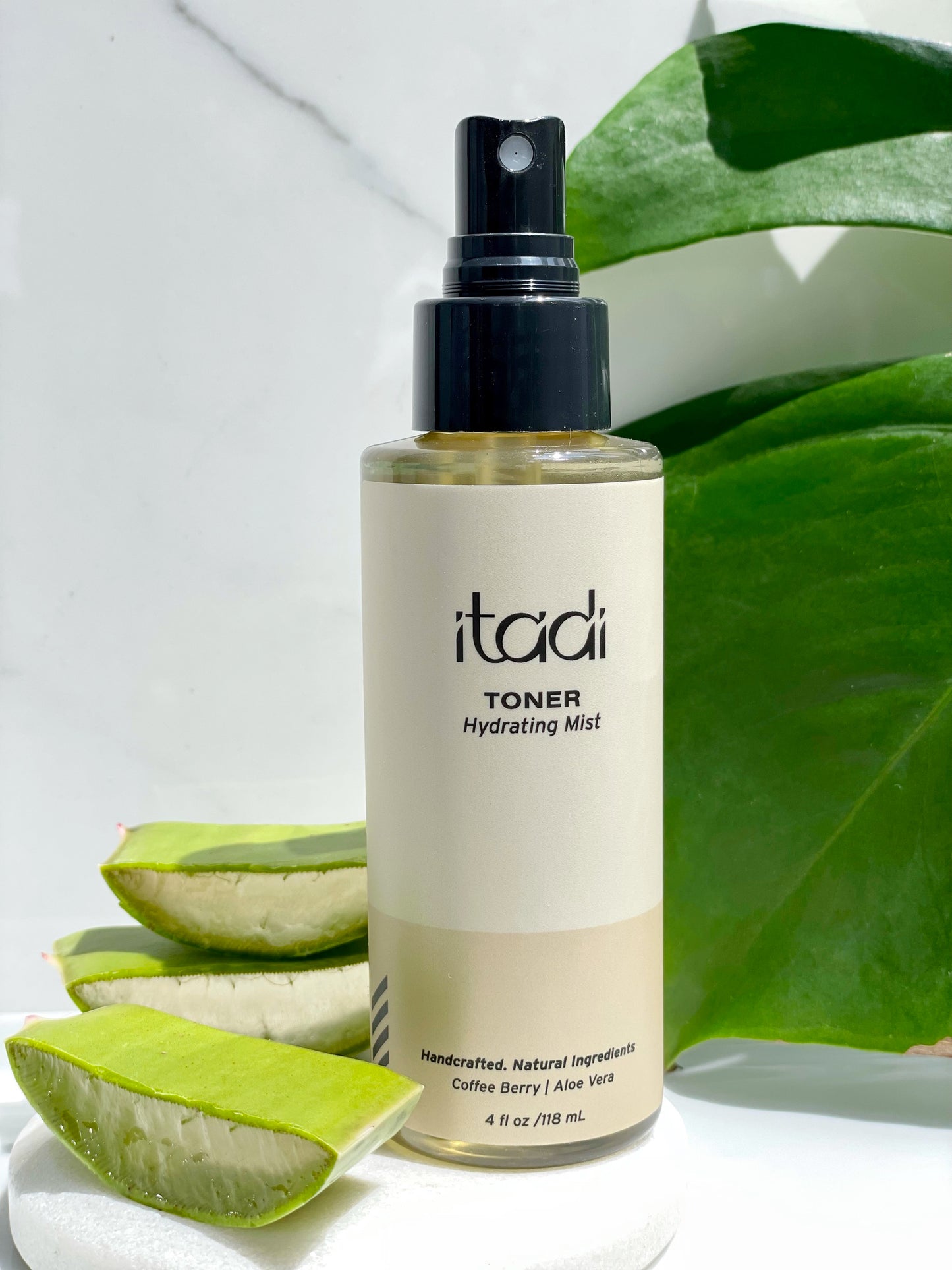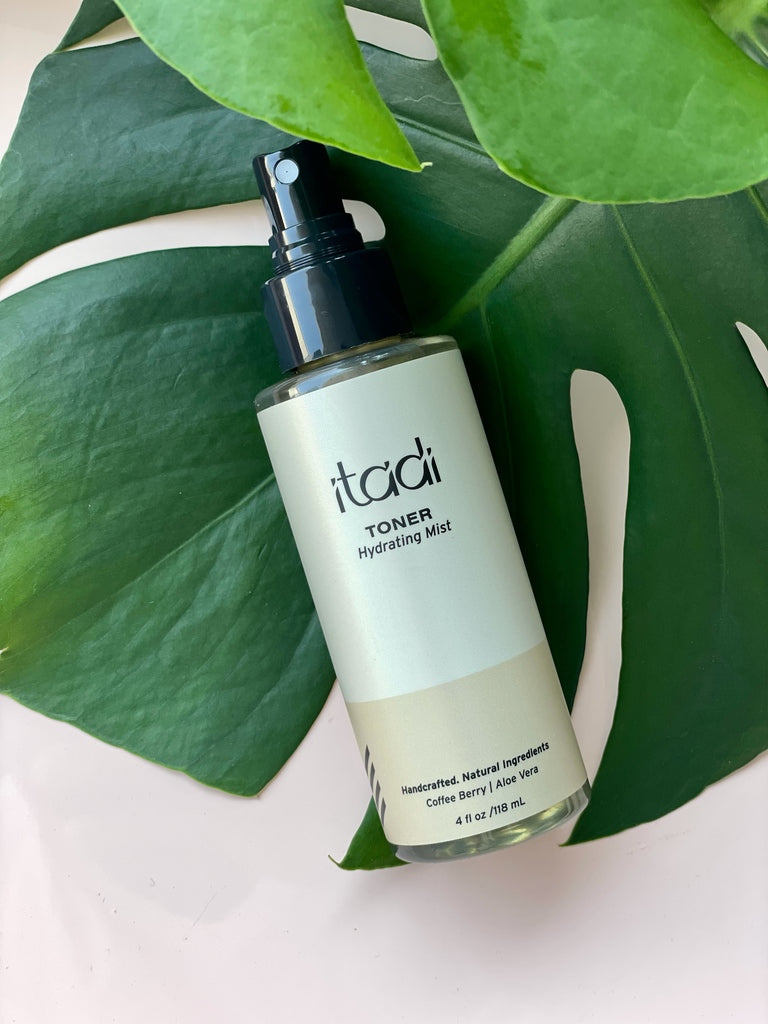 Spritzy Refresher
This is lovely and a little goes a long way. I use it after I wash my face and it does a great job holding in moisture.
Second Toner not the same as First one
I just recently purchase another package of the Itadi and when I open my package I was A little disappointed. I notice a Color difference in the Toner. The first Toner was a Brown Color and the Second one was like Greyish? It looks like it was water down, it doesn't seem like it has the same nutrients and oils as the First one. I tried both on my hand and the second one didn't feel like the Original. My question is why is there a difference in Toner color Now?
Thanks for your honest review Lorie and we understand your concern. Because our products are made with all natural ingredients there is a natural settling of the ingredients that occurs. The toner tends to change color over time. Our toner is always clear when it is first made, however after about a month or so it begins to change to the golden color.
Glowing
I love this toner. It's very moisturizing and smells amazing. My skin literally glows with this. And I'm thankful that it's made with real ingredients.
Thirst Quenched
I am so pleased with this product. I use it on my face and bald head anytime I shower or wash my face. It locks in moisture, smells great, and leaves my face feeling hydrated. No more dry skin. I use with the Itadi moisturizer as well. This is a perfect combo for my sensitive skin. No breakouts, no clogged pores, just a happy healthy face. I will definitely buy again!
No More Thirsty Face
So Cal summers are dry and for me spent mostly outside so I love this product for when my fave feels thirsty and dry and just needs a little love. I keep this spray with me for refreshing on walks or after splashing water on my face. As a mom it's more about great looking skin than makeup and this toner has def helped me maintain it!