ITADI
Bundle ITADI (3 pack)
Regular price
$68.85 USD
Sale price
$55.08 USD
Unit price
per
Sale
Sold out
The Itadi Bundle is a unique regimen for revealing the natural glow of your skin, it contains all of our organic products! Our simple 3 step process transforms your skin in an absolutely natural way. Prevent acne and softly exfoliate your skin with our infused coffee bit Face Wash. Purify & balance your skin with our soothing Toner. Hydrate your skin with our antioxidant rich Moisturizer. Ideal for all skin types!
Transform your skin organically with our unique skincare formula.
Reduce dark spots and even skin tone.
Revitalize dry skin & increase circulation.
Fights acne with a natural antibacterial.
Prevent visible signs of aging.
Reduce the appearance of cellulite.
Try our bundle. Get all 3 products and save 20%.
How To Use:
Step 1 - 
Wet face. Apply ITADI Face Wash generously to hands and massage over entire face. Rinse thoroughly. Follow with ITADI Toner. 
Step 2 - 
Gently mist ITADI Toner onto face. Use after cleansing, before applying moisturizer and throughout the day whenever skin needs a boost of refreshment. Separation is natural; for best results, shake before each use. Follow with ITADI Moisturizer.
Step 3 - 
Apply ITADI Moisturizer to face and neck after cleansing. Squeeze a pea size amount onto fingers and smooth on face and neck until fully absorbed. For best results use twice daily.
*100% satisfaction or your money back
Share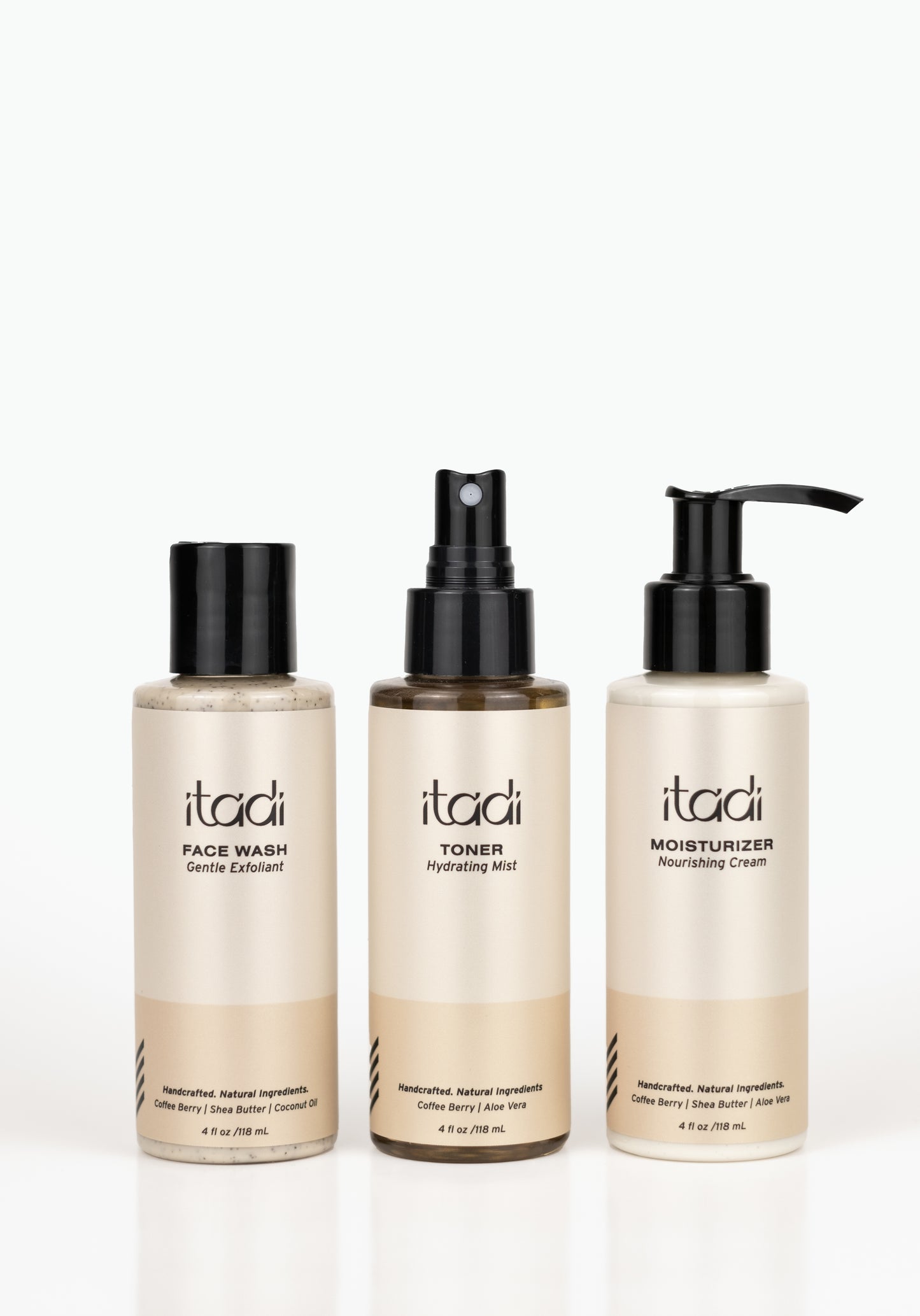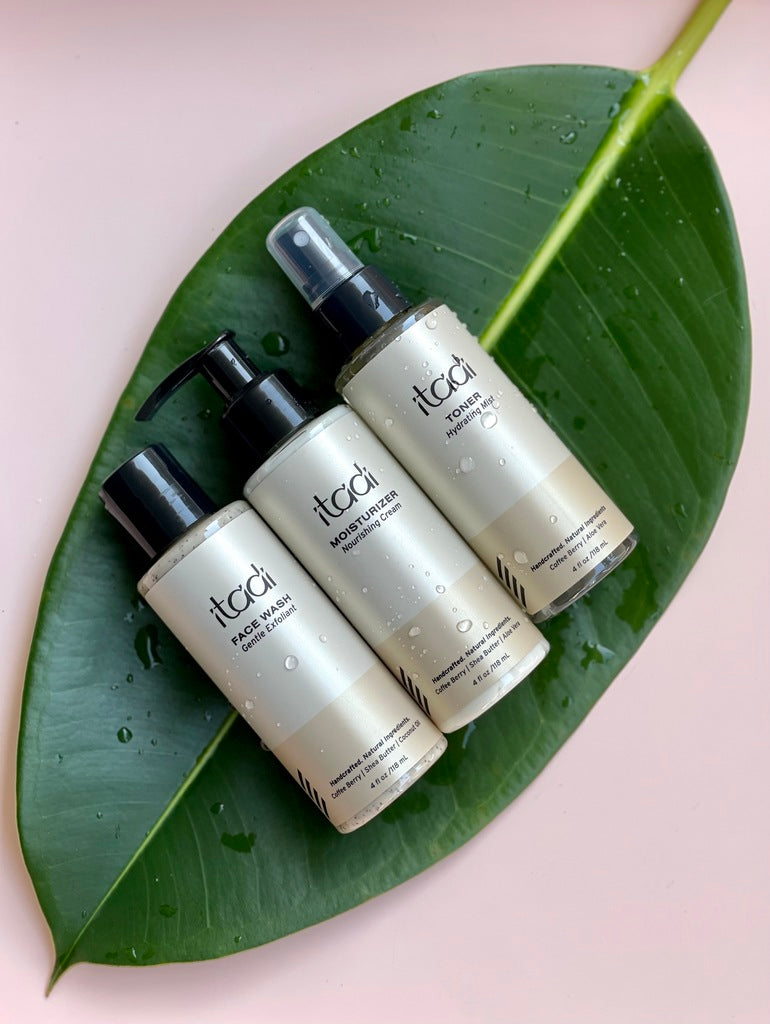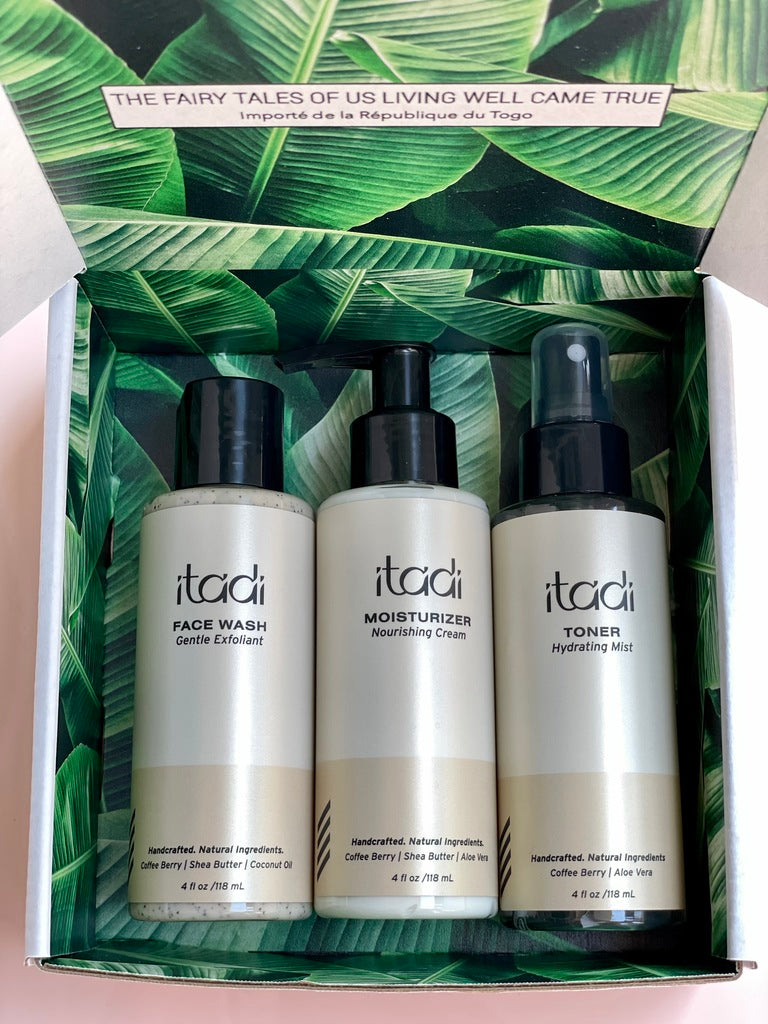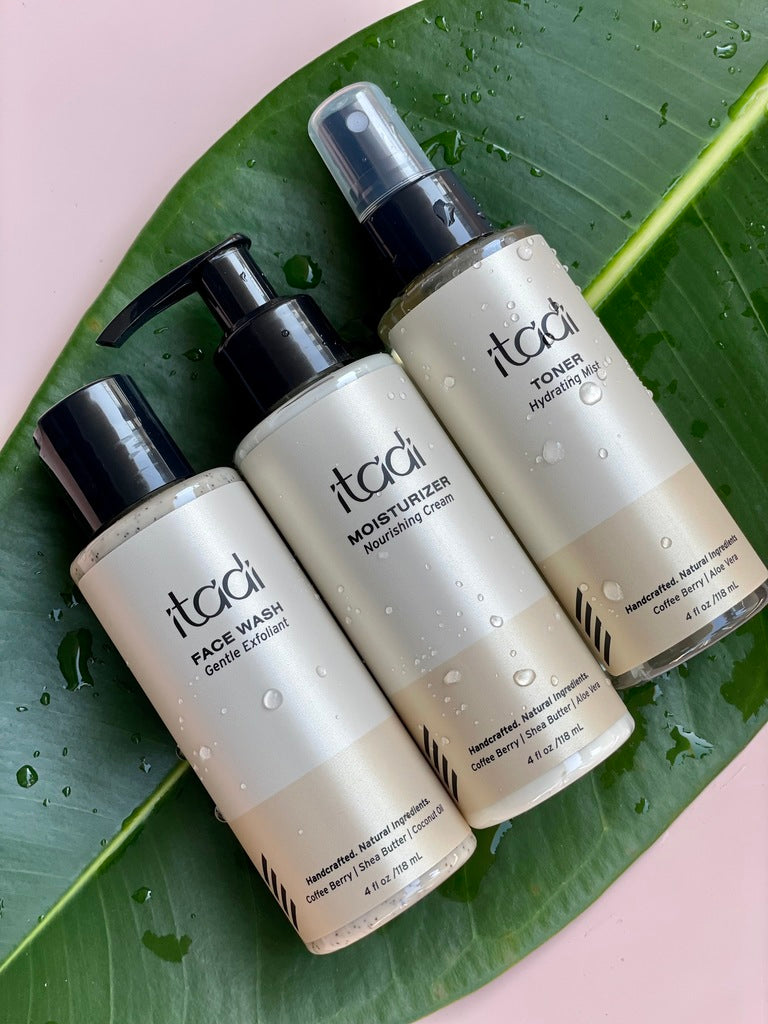 I like the coffee grounds, my face is really sore after I clean it.
Love it!
I have been using Itadi for over a year and I love it. It is simple, moisturizing, lightweight, and I have good skin. Not prone to acne at all. No complaints at all. Really good natural product. Please never change!
The cream isn't too oily and isn't too dry it's perfect.
Itadi BUNDLE
I love everything that includes coffee especially in my skincare!! I love the clean fresh aroma of this product it 's not overwhelming but it gives your senses a little pick-me-up. The cleanser has texture and gently exfoliates leaving my face so soft and smooth. The toner gives nice balance without irritating. The moisturizer is this rich lotion of goodness. I had to adjust my application of the moisturizer to 1/2 of a pea size ( if that makes sense) I live in a warm climate so slathering too much product on would not be beneficial for me. This bundle is a winner!
moisturizer isn't too oily it's just right