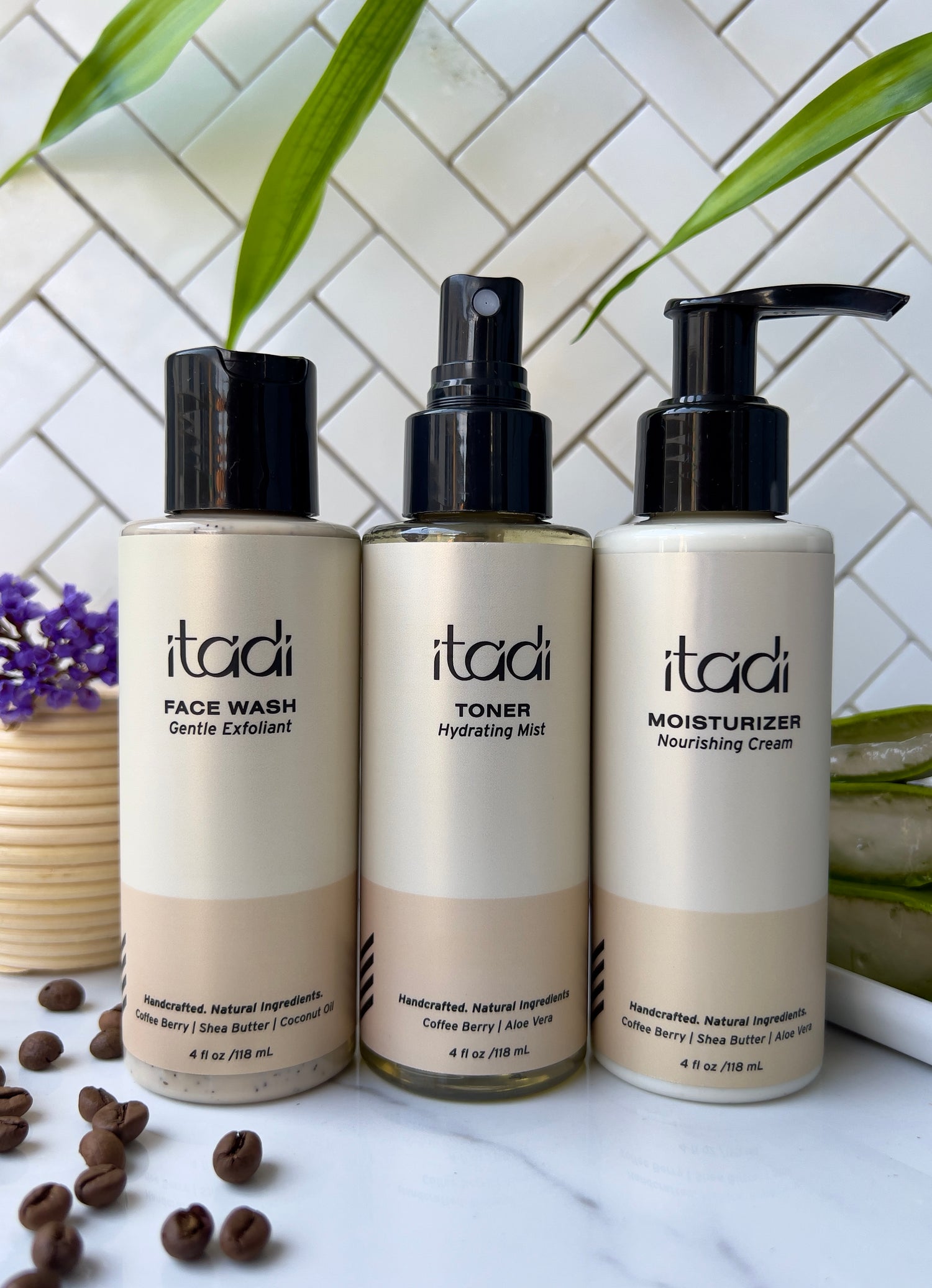 Earth Informed Skincare Essentials
We have compiled a unique formula using the purest ingredients on Earth from our family owned farms in Togo, West Africa.
Shop Now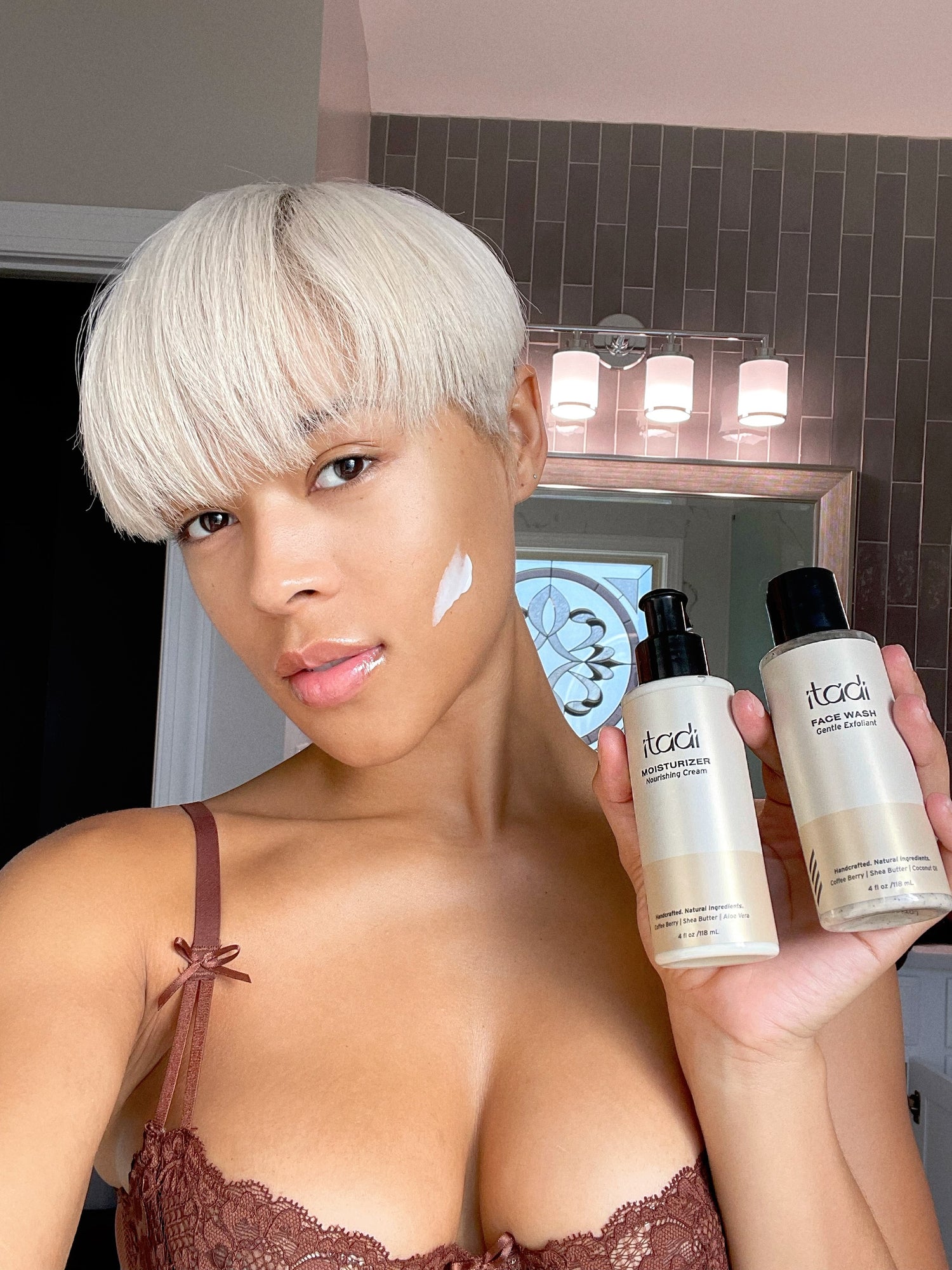 What Makes Us Different
ITADI provides a plant-based, safe and effective daily skin care regimen for people who want beautiful skin without the use of harmful chemicals. Most brands can't identify the source or authenticity of their ingredients. We proudly source raw ingredients from our own farms in West Africa, producing purely homegrown and Earth informed products. We believe wellness is a verb – an act of living and doing better. Our ingredients are clean, simple and straightforward. ITADI products are gentle enough for the most sensitive skin but developed with all the ingredients needed to nourish and replenish all skin types.
Our Natural Ingredients
Coffee Berry

The most potent natural antioxidant. It smooths skin, neutralizes free radicals and prevents cellular damage. It's anti-inflammatory effect is very helpful for those with eczema, dermatitis and rosacea.

Shea Butter

Increases circulation to the skin and promotes cell renewal. Vitamins A and E found in this butter keep the skin supple, nourished and radiant.

Aloe Vera

Contains antioxidants, enzymes, Vitamins A and C, and is highly anti-inflammatory. Helps exfoliate both dry and oily skin.
Our Simple 3 Step Skincare Process
Let customers speak for us
Relieved my eczema
I'm just here to say that this product relieved my eczema. I suffer from eczema on my face and at times can get super irritating. I use it all over my face or use as a spot treatment and I get instant relief and within days my face is no longer irritated and my dry patches are gone. Some people have worse eczema than me I know but this has provided some relief so I'm sharing with the hope that it may help someone.
Hydrating Face Moisturizer
I like the coffee grounds, my face is really sore after I clean it.
Bundle ITADI (3 pack)
Love it!
I have been using Itadi for over a year and I love it. It is simple, moisturizing, lightweight, and I have good skin. Not prone to acne at all. No complaints at all. Really good natural product. Please never change!
Bundle ITADI (3 pack)
Fresh Quality Feeling
Amazing products. I just wish they were bigger sizes love the smell of the cleanser and toner. 10/10 would recommend
ITADI Face Cleanser (2 pack)
Awesome Products
This has been my go to daily cleanser for years. My face is clear and my pores are no longer noticeable.
Gentle Exfoliating Face Cleanser
And just like that… a clear face!!!
I can't put into words how amazing this combo has been on my face! I have combination skin that leans more to the dry than oily side, and this moisturizer is just what I needed to help give a glow back to my face! Any time I have a blemish I need to zap immediately (and gently), I pull out my Itadi Combo Pack and rest assured knowing my face will be exfoliated, soothed, and moisturized! The face cleanser feels like a trip to the spa, and the moisturizer is the perfect tuck in after a long day of serving face! It's light weight, and I truly wake up glowing!! This product is a perfect 10!!!
ITADI Face Cleanser & Moisturizer (Combo Pack)
The cream isn't too oily and isn't too dry it's perfect.
Bundle ITADI (3 pack)
ITADI Face Cleanser (2 pack)
Itadi BUNDLE
I love everything that includes coffee especially in my skincare!! I love the clean fresh aroma of this product it 's not overwhelming but it gives your senses a little pick-me-up. The cleanser has texture and gently exfoliates leaving my face so soft and smooth. The toner gives nice balance without irritating. The moisturizer is this rich lotion of goodness. I had to adjust my application of the moisturizer to 1/2 of a pea size ( if that makes sense) I live in a warm climate so slathering too much product on would not be beneficial for me. This bundle is a winner!
Bundle ITADI (3 pack)
I buy it cause I love it!
This combo is great. The face wash has the soft scrubbies in it that I feel give a deeper cleanse and the sell is so fragrant. I love it. Been keeping a clean shaven face lately and the moisturizer is perfect after I shave leaving the smell on me while I drive to work. A++
ITADI Face Cleanser & Moisturizer (Combo Pack)
The best!!
Gives my skin and soft feeling and a glow!! I love this gentle exfoliation because it does break my face out at all..
Gentle Exfoliating Face Cleanser
moisturizer isn't too oily it's just right
Bundle ITADI (3 pack)
wonderful products
clean and refreshing skincare that leaves your skin glowing.
Bundle ITADI (3 pack)
Works Well!
I bought the bundle after reading a few reviews and seeing videos. It works well, especially during this time of the year when my face tends to be drier due to the weather. The 3 step process is simple, the products smell clean and natural, and my 35+ skin stays hydrated throughout the day. I highly recommend trying it!
Bundle ITADI (3 pack)
My grand daughter loves it as well and she's Sweet 16!
Hydrating Face Moisturizer